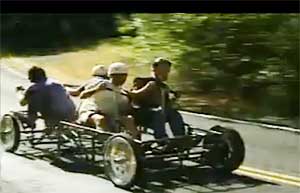 Row, row, row your boat gently down the stream. Well, you get the idea anyway of the human power involved, not on the stream, but on the roadways, for the HumanCar which is to be unveiled officially on Earth Day 2009. This fun four seat mostly manually operated vehicle promotes exercise and environmental benefits.
The HumanCar is the brainchild of inventor and CEO Charles Greenwood, who decided that people power was more environmentally friendly that perhaps any other vehicle. For going up hills, the HumanCar also has an electric assist that kicks in so this modern day Flintstone Mobile doesn't roll backwards and hurt someone.
The HumanCar is powered by two sets over people, back to back, plus two electric motors and regenerative braking to recharge the batteries. This biometric input vehicle all told gets over 100 mpg and can travel at 60 mph. This street legal low mass vehicle uses a self-generating 1,000 watt sine wave AC output and can also be used as a power unit for one's home.
The HumanCar is the next logical step upwards from a bicycle with electric assist and a velomobile with electric assist. Just grab three companions and off for a Sunday drive you go. The price tag is a bit hefty at around $15,000, but then again four health club memberships for nine years may cost you this much.
The HumanCar combines a stroke of inspiration with two strokes of perspiration to form a practical ride that will give you a workout and leave things a bit greener in your wake.