Toyota Prius Prime Review
Are you planning to buy a new car any day soon – especially one that gets 120 mpge (miles per gallon equivalent)? Is your choice a hybrid that is made by excellent car manufacturer Toyota? Well, you must be in luck because they are officially launching the new Prius Prime. According to Toyota, it is the concept of their engineers to take the car design and features to new heights.
The best thing about getting a hybrid is the efficiency and attractiveness best suited for your type of personality. The new edition is capable of many things that shouldn't disappoint. If you're still looking for a car that never fails to amaze you, then this is the one for you.
Perhaps you didn't have the chance to drive a Toyota before, but there's nothing to worry about. The new Toyota Prius Prime goes beyond expectation. Here are some of the highlights from Toyota itself that you need to know prior to riding your next automobile with the widest range of performance and aesthetic features.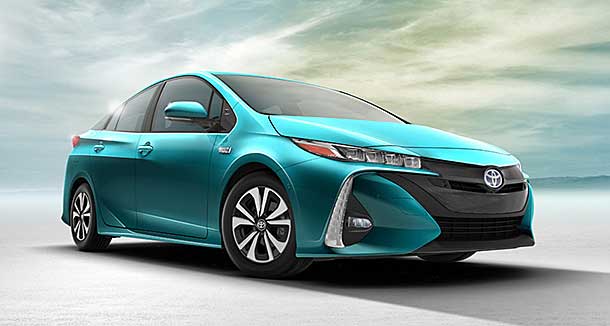 Toyota Prius Prime Specifications
Athleticism and Aerodynamics. When it comes to car design, Toyota has taken the lead by putting more emphasis on athleticism and aerodynamics. In fact, it is built to be lower, longer and wider design compared to its predecessor.
Energy-Saving LED Lighting System.  It has a set of LED headlights that is totally energy-saving. Aside from that they have never compromised on the function with attractive style. Likewise, it has a dynamic backend highlighted by the C-shaped taillights made of LED. It also has a very attractive full-width panel on the rear combined with head-turning rear spoiler.
Augmented Driving Experience. As you put yourself to the driver's seat, you should rejoice because you are in the cockpit of the next generation of automobiles. It also has a remarkable audio system from its very own Entune Premium JBL Audio as it flashes an 11.6-inch HD touchscreen tablet providing the control interfacing. To top it all, you should feel like driving on cloud nine as the interior offers a luxurious experience for the rider. Plus, you are pretty pampered with the Qi wireless charging system to keep your connection as awesome as ever.
Fuel Efficiency at Its Best. Perhaps choosing the car of your dreams should include fuel efficiency no matter what type of car it is. So here you are, it has an unrivalled efficiency as it implements a 1.8-liter refined Atkinson cycle with four cylinder engine and an electrical system that is totally upgraded. This gives the Toyota Prius Prime world-class fuel efficiency. It also has a pack of awesome upgrades such as:
Continuous variable transmission
Regenerative braking system and
Huge battery pack, among others
Top Performance Specifications
120 MPGe Fuel Economy Ratings (estimated)
22-mile Electric Driving Range (estimated)
600-mile Total Driving Range (estimated)
84 MPH Top Speed in EV Mode
Fuel Tank Capacity of 11.3 Gallon
Battery Pack of 8.8 kWh
Charging Time of up to 5.5 Hours
Choosing the Toyota Prius Prime can be a sure winner. You can learn more about the complete features as well as availability from a dealership nearest you.