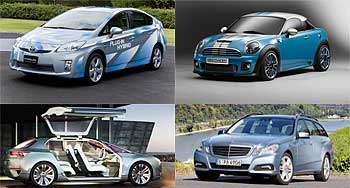 Green cars actually come in all different shapes, sizes and colors. When perusing the debuts and concept cars for the Los Angeles Auto Show I happened to notice that many of these green cars are actually painted blue.
There are several blue car offerings from Mercedes, Subaru, BMW and Toyota. The Mercedes-Benz E350 Bluetec is based upon clean diesel technology and will have an additional 32 horsepower bump due to direct injection.
The Subaru Hybrid Tourer Concept first premiered at the 2009 Tokyo Motor Show. It uses a 2.0 Liter direct turbocharged gasoline engine plus a lithium ion battery pack and two electric motors front and back.
The BMW MINI Coupe Concept was originally unveiled at the Frankfurt Motor Show this year commemorating the 50th anniversary of the introduction of the first MINI. Besides being good on gas, this 2-seater has a 1.6L twin-scroll turbo-charged engine.
The Toyota Prius Plug-in Hybrid Concept also debuted at the Frankfurt Motor Show this year. With all the hype about the Chevy Volt Plug-in Hybrid, the Toyota PHEV Prius may exceed everyone's expectations and kick the Volt to the curb in sales. One of the reasons is that the Prius PHEV, using a 230 volt outlet will need only 1.5 hours to recharge.
These are the latest blue, green car North American debuts and concept cars that will be showcased at the L. A. Auto Show from December 4 – 13, 2009.