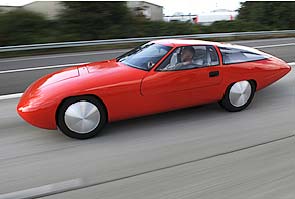 The Avion 100 mpg sports car built by Craig Henderson and Bill Green of Bellingham, Washington is back on the road after 20 years. In 1984, the Avion was able to go into the Guinness Book of World Records with a record-setting 103.7 mpg.
The Avion uses a modified Mercedes diesel engine and aerodynamic body made of aluminum and composites and weighing in a just 1,500 pounds. By the looks of the vehicle one would assume that this little sports car is more red than green, built for high performance and not mileage performance.
But, looks are deceiving and so was the marketplace in 1984. Henderson and Green tried to sell their 100 mpg vehicle to the major automakers back then but were given the excuse that gasoline was cheap and no one would want to buy it. Do you buy it?
The same was said shortly before the electric car was crushed several years ago as well. No matter, as this Phoenix has risen from the ashes and will now compete for the Progressive Automotive X-Prize with a chance of winning $10 million.
The two parameters in which the 120 teams (to date) will compete are that the vehicles entered for the prize need to get over 100 mpg and they have to be commercial ready vehicles that people want to buy.
By the looks and performance of the Avion, a person must think that this is an instant contender.