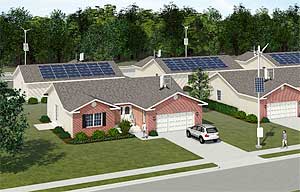 Jerseyville, IL about 44 miles north of where I grew up in Southern Illinois (and about the same mileage from St. Louis, MO) is getting the first LEED Platinum certified housing community. This cutting edge green community will be using solar panels and wind turbines to provide all power (meaning $0 utility bills).
Not only that, but the price is right as well. Many times going green can be an expensive (but worthwhile venture). Putting solar panels on top of ones' home can be a 20+ year investment before seeing a return.
The 32 homes which each contain 3 bedrooms will rent out for $590 per month. According to the press release, "The 32 single-family homes will each have three bedrooms, two full bathrooms and an attached two-car garage. A separate building will house a clubhouse/resource center, community room with kitchenette and bathroom, conference room, computer lab, property manager's office and a storage room. The site will be landscaped with native plants to reduce water usage and will include a state-of-the-art playground."
Home builders are finally starting to take notice. Even in a housing downturn such as this, people are interested in both affordable homes and going green. This LEED community will lead the way for other green home builders across the nation.