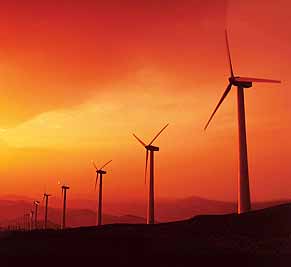 Phase I of the Smoky Hills Wind Farm project has been completed by Enel North America about 140 miles west of Topeka, Kansas. The 101-megawatt wind farm (which may expand to 250 mw) is situated on a 10-mile stretch just off Interstate 70 on the border of Lincoln and Ellsworth counties.
Currently, 56 wind turbines at a height 260-feet dot the landscape upon the blustery plains. Dozens of technicians have worked on the Smoky Hills Wind Farm project just to get it online and operational. Dozens more will most likely be needed to expand the wind farm to its full capacity as well.
But, Enel has stated that because of the rapid growth of orders for wind energy by the utility companies over the past couple of years there is now a shortage of wind farm technicians. The technicians most commonly seen on wind farms include meteorologists, mechanics, computer programmers and IT professionals and hydraulics engineers.
Last year, 3,200 wind turbines were installed across the U. S. supplying enough electricity to power 1.5 million homes. Besides Kansas, Texas and Oregon are also areas needing wind farm technicians. On the other end of the scale, Rhode Island may be banning wind farm construction for a year due to environmental concerns.
According to Enel, however, wind farms are such an emerging industry right now that those with just one-year's worth of experience are highly desired. At this point in time, those with a little wind experience, solid technical skills and the willingness to climb 260 feet can write their own tickets.