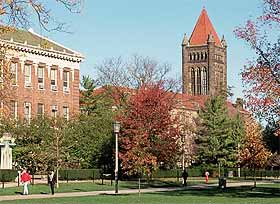 Break open the Champaign, because at the University of Illinois in Champaign green dormitories are being built. Under construction is the $23 million 262-bed residence hall that will feature geothermal energy to heat rooms and water.
The U of I Presby Hall will not only feature state of the art plumbing but environmentally friendly paint and lighting as well. The U of I green dorm is expected to be certified green this summer by the U.S. Green Building Council.
This green dorm project is being spearheaded by the McKinley Presbyterian Church and Foundation, which owns the land. The heating system will be expensive upfront costing $650,000 but with a $100,000 subsidy from the Illinois Clean Energy Foundation and energy savings of $40,000 per year, the University expects to recoup the costs in 10 to 15 years.
This may be the first residence hall of its kind in Illinois, but with any luck a green dorm may become the norm as educational facilities keeps pushing to reduce their carbon footprint (feetprint?) as one part educational opportunity and two parts environmental stewardship make this the right thing to do.