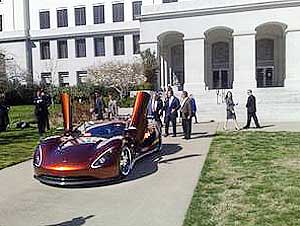 Just one week ago I was talking about whether the Ronn Scorpion super eco-car was a scam or not. This week apparently California Governor Arnold Schwarzenegger thinks not as he test drove one of these vehicles and is thinking of purchasing one for himself.
The Ronn Motors Scorpion is both a supercar and an eco-car that is able to accelerate to over 200 mph and achieve 40 mpg using run your car on water hydrogen technology. Critics have been calling this car the greatest hoax of all time, while advocates say this is the greatest game changer in regard to gas saving technology that the consumer has ever seen.
Governor Schwarzenegger took a test drive of the Scorpion with founder and CEO Ronn Maxwell in the passenger seat. The Governor approached Mr. Maxwell after reading a article in the Men's Journal, a high profile publication that declared the Scorpion, "God's Own Supercar."
To say that Governor Arnold Schwarzenegger is a fan of hydrogen is an understatement. The governor developed the Hydrogen Highway system in California that currently has 26 H2 refueling stations and is adding more each year.
The governor also converted his H2 Hummer into an H2 burning machine (the H2H Hummer) and drove it to the opening of the first hydrogen refueling station at Los Angeles International Airport. The Ronn Scorpion uses hydrogen-on-demand technology, which electrolyzes water and feeds the resulting HHO gas into the gasoline-burning vehicle's intake system to supplement the fuel and act as a catalyst.
There has been much skepticism over the Ronn Scorpion since it was announced in the Spring of 2008 as to whether this $150,000 super eco car's H2GO system would work as advertised. Having the nation's first "Hydrogen Governor" on their side will only add to the credibility of this emerging technology that is sure to have a significant green impact going forward.