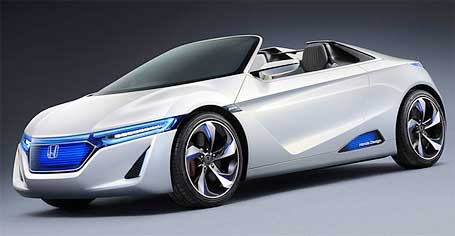 Okay, so I'm a little late on this. I've been busy with the Holidays and ringing in the new year which I hope to the heavens is better than last year. Anyway, in case you've missed some of the eco car reviews from the recent Tokyo Auto Show, I'm going to recap them for you. Be green, my friend!
In the first major auto show since the earthquake and tsunami in March of 2011, companies showed off their most fuel-efficient vehicles at the Tokyo Auto Show. The cars made use of various types of technology, among them being hybrid, fuel cell and electricity. Most of the cars were compact in size, with domestic automakers trying to recover from the tragedy in March and the struggling global economy.
In addition to the earthquake and tsunami, Japanese automakers also had to contend with Thailand flooding, which shut down production on many Japanese car lines. The Electric commuter car, also known as EC-Miu, was a popular exhibit at the show.
Nissan, which is the second largest maker of automobiles, has several concept cars that are electric, as well as a car that can be controlled remotely with a smartphone. They have installed already a system that allows owners to control the air conditioning and check on their car's battery with a PC or a smartphone.
Honda featured a smaller sports car known as the EV-Ster, which has a fully electric engine. The president of Honda said his company plans to install solar panels at the locations of their assembly lines, to eliminate carbon emissions in the entire operation. They look towards a time when we put stress on the environment much less than we do now.
Toyota, which already boasts the immensely popular hybrid Camry, has a green outlook, and they unveiled a compact hybrid known as the "Aqua", and a more advanced car that runs on fuel cells, which they refer to as the most fuel-efficient car in the world. The president of Toyota also featured a hybrid car that plugs in, telling car show attendees that future consumers have a bright future, with more choices in vehicles that use cutting-edge technologies.
Mazda was also on hand at the Tokyo Auto Show, with their mid-sized "Takeru" sedan concept car, a vehicle with an energy-efficient diesel engine.
The Toyota Aqua will use a name outside Japan that drivers already know, the "Prius". It will travel 82 miles to a gallon of gas, which is an outstanding increase over their existing mileage. Toyota also plans to roll out a five-seater vehicle in Japan in late December, 2011, and eventually that vehicle will also be marketed globally.
The automakers at the Tokyo Auto Show felt that it is important for people to know that the market in Japan is still relevant to carmakers in Europe, who have shown an interest in hybrid and electric cars. Some automakers in Europe skipped the previous auto show, but were back this year. They included Porsche, Mercedes, BMW and VW, from Germany; Peugeot-Citroen and Renault from France and the Land Rover and Jaguar, from Britain.
The Tokyo Auto Show also boasted manufacturers who do not compete in the automobile industry, at their show this year. They include Kowa Tmsuk, a joint operation between Kowa, who makes electric optical machines, and Tmsuk, which develops robots. They unveiled a completely new concept vehicle that they have dubbed the Kobot. The manufacturers say that the body is able to transform, through signals to its telematics from a smartphone.
Indeed, there were many vehicles that only a short time ago looked like they might be years in the making. The wider acceptance of these vehicles will be at least one step forward in using vehicles that have less impact on the environment.