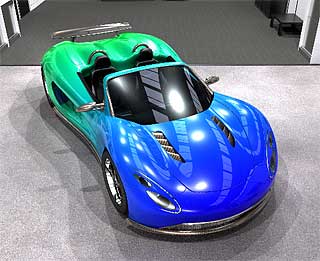 Ronn Motors of Austin, Texas yesterday unveiled their Scorpion exotic car, which can flat out run. Not only that, it exceeds current and future U. S. CAFÉ standard for automobile gas mileage.
With zero to 60 mph acceleration in under 4 seconds, the Ronn Scorpion fits well in the supercar class. But, it's also a bit of a tea totaler when it comes to gasoline as it is rated at 40-plus mpg highway. Compare this to other supercars like Lamborghinis that get less than 10 mpg or perhaps a Prius that is in the mid-40's.
How does the Ronn Scorpion pull off this feat? Well, you've heard me talk about different run your car on water methods before and the Scorpion uses a Hydrorunner hydrogen fuel injection system to increase gas mileage and reduce emissions.
Simply put, the Hydrorunner sips from a 1.5 gallon water tank, turns the H2O into HHO gas then injects this into the car's intake system. The dual computer processor onboard the Scorpion figures out the right gas to HHO mix and optimizes it under various driving conditions.
Now, 40 mpg may not be the Holy Grail in gas savings, but what most people don't realize is that Ronn Motors and Check Engine (developer of the Hydrorunner) are committing a first. Never before has an auto manufacturer included a hydrogen generator as a standard part of the automobile.
This could be the end of the catalytic convertor as we know it. This also opens the door for other automakers to say yes to offering these water car devices standard on their automobiles as well.
When 190 of the limited edition Scorpions start to roll out in October 2008, they will all be equipped with this gas saving device. This supercar doesn't have a super price either compared to its exotic Italian counterparts and is being sold for $150,000.
Public shares of Ronn Motors are now being offered on the Over The Counter Exchange. Time will tell if their shares will be in as high demand as their hydrogen on demand supercar will surely be.