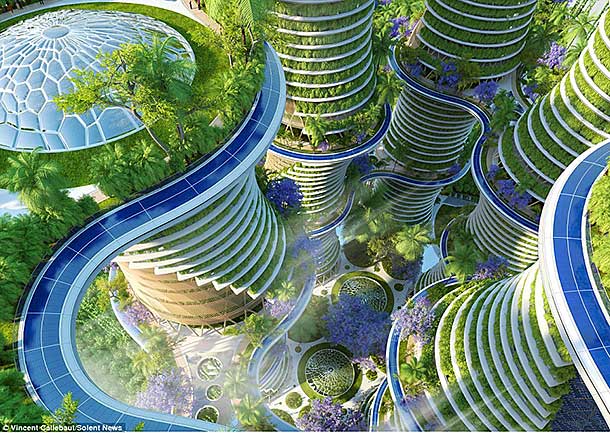 Imagine living in a building that has its own eco-system, produces its own food, and generates its own energy. This idea seems like something you would only see in futuristic movies, but it is actually a concept that is being brought to life today by Belgian ecological architect Vincent Callebaut. The project is called Hyperions. These are buildings that have a sustainable agro-ecosystem and are capable of resisting climate change due to healthy economic and environmental systems.
Who is Vincent Callebaut?
Callebaut is known for his designs that aim to be the 'town of tomorrow', projects that incorporate all the needs required for a population to live in an environmentally sustainable manner. Some of his ecological architectural designs include the Dragonfly in New York, the Agora Garden in Taipei, and the Asian Cairns in China. His architecture designs seem to be inspired by natural patterns and shapes, like butterfly wings (like his Dragonfly concept) and a molecule of DNA with its double helix (used in his Agora Garden project).
Knowing all about The Hyperions  
The Hyperions, Callebaut's newest green building design, was inspired by the Hyperion, a sequoia semperviren found in Northern California. It is the tallest tree in the world measuring in at 380 feet. Callebaut's vision is to build the Hyperions in New Delhi, India. The aim is to create a social and cultural hub that combines agroecology, sustainable food systems, and other concepts of modern green living. It consists of six garden towers containing residential and office spaces.
Each tower measures 36 stories (128.20 meters high) and the towers have rooftops which are connected by sky footbridges. Each tower acts as a vertical village that contains apartment units, co-working spaces, offices, gymnasiums, and community orchards. The indoor furniture is made from natural materials and sourced from local recycling shops, cabinetmakers, and fabrication laboratories.
All buildings have cascading hydroponic balconies and greenhouses where carrots, tomatoes, spinach, saffron, and coriander grow in light substrates made of clay balls. Hyperions is also dotted with urban farms growing wheat and corn crops, millet and legumes. These plants help maintain healthy protein levels while reducing nitrogen inputs. There are also small animal farms producing eggs and dairy. This allows residents to produce their own food on-site.
The sky footbridges that connect the towers are irrigated by collecting the residents' graywater and rainwater. The organic nutriments from the filtered water are absorbed by the plants. Phyto-purification lagoons and ponds merge with the garden towers.
Communal orchards grow camphor laurels, bergamot trees, and other cinnamon plants. Residents can farm, pick fruit, exercise, play, and socialize in these areas.
All the plants, farms, water structures, and energy systems in Hyperions are designed to balance and sustain the whole ecosytem. For example, Callebaut said the agricultural by-products are turned into methane that generates electricity, which is then re-injected into homes in real time. Bees pollinate the flowers, and earthworms re-oxygenate the soil. The ecosystems are rebalanced so damage from weeds, insects, and diseases can be less frequent.
The Hyperions is definitely an architectural concept that green technology enthusiasts and sustainability advocates can be excited about.
For those wanting to save trees on U. S. soil, Yellow Pages Goes Green will help stop your phone book deliveries as well as give you a place to search for local businesses online.
Reference
http://www.dailymail.co.uk/sciencetech/article-3458308/The-eco-friendly-tower-blocks-produce-energy-consume-Hyperion-designs-feature-1-000-homes-gyms-farms.html