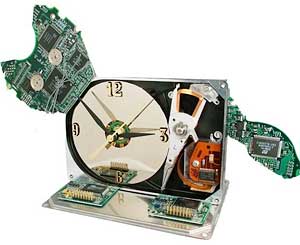 Even though this website is about green technology (as in high tech), I also enjoy reading other blogs that feature low tech solutions to environmental problems. I happened to stumble upon such a website called DIY Gadgets that tells people like you and me how to recycle household items into art (such as this computer cat clock – pictured).
Since I was fascinated with the artistic photos on the website and the idea of recycled art, I decided to interview green blogger Jessy Troy about her website.
1. How did you come up with the idea for blogging about how recyclables can be turned into art?
I am a stay at home mom and there is no better way to get kids busy than learning crafts with them. I've been using the Internet to find some inspiration and tutorials and decided to collect my finds in a blog. Obviously, I haven't had enough time and skill to try to make everything which is listed there, but as my kids grow up, they try more and more new things. The fact that my own blog is able to inspire my kids in fascinating.
As they say, the best tools are those that you use yourself. If the collection turns useful to me, it is likely to come in handy to other people as well!
2. I see that you feature turning many recyclables into clocks. Is this something anyone can do?
Browsing Etsy is another passion of mine. And featuring some artists who are selling eco-friendly DIY things means showing support to them. I have never tried making a clock myself but there are lots of DIY fun clocks on Etsy and I hope other people will either get inspired by my collections or support the awesome artists by buying something from them.
Either way, it's a win
3. What are some of the wildest designs you've seen in recycled art?
I love drinking-straw designs. Take this drinking straw live light, drinking straw chair and this drinking straw furniture. I love the color play, the looks and overall the fact that such useless things as drinking straws (which people seldom think of recycling) can be turned into such useful and beautiful projects.
4. What inspired you to pick this particular green niche to focus on?
I am no eco-expert. I am trying to raise my kids in eco-friendly environment but that's not something I go insane about. I do have a number of blogs featuring other aspects of my life like vegetarian living and entrepreneurship. The DIY Gadgets blog is my sweet hobby. I don't pretend to be good at making stuff but I like to think that the blog is able to inspire someone!
It's often been said that one man's trash (or woman's in this case) is another man's treasure. The DIY Gadgets website show you how to turn trash into art and help the environment as you do so.