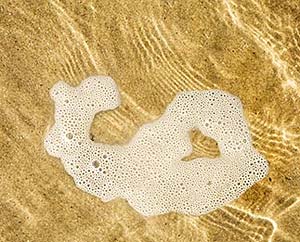 Well, I don't usually do this as the focus of this blog is green tech, but I've stumbled upon something cool that is definitely pro-environment but not necessarily high tech. Now, I've seen many different kinds of alphabet photography that focus mostly on industrial design, which may not be all that environmentally friendly.
However, this kind of alphabet photography focuses on photos of beach foam. Now, this seems a little peculiar until you see the images for yourself. What has happened is that the photographer of the Words from the Sea website has taken months to put together a collection of letters and shapes made from the sea washing against the shore.
For just one barely discernable moment, the seafoam will form a letter and the photographer shoots this in the water. None of the images has been Photoshopped, manipulated or doctored. Besides the ABC's in seafoam letters, there are also interesting shapes like that of a whale, a heart, and an exclamation point.
The letter art can be arranged as desired to spell out whatever words one desires. For instance if you want to decorate your child's bedroom you can with this seafoam alphabet photography and you can arrange the letters on the website to see what you're getting before you buy.
One motive of course is profit. But behind this motive is one of ocean conservation. The photographs, papers and canvasses are made with environmentally friendly materials. In addition a portion of the proceeds of the sales is donated to ocean conservation organizations such as the San Diego Ocean Discovery Institute.
So, you see the alphabet photography from Words from the Sea is fun, environmentally-friendly and helps to promote ocean conservation. What's a better green gift to give this holiday season or any other time for that matter?