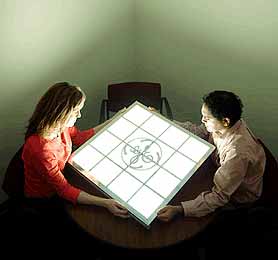 Organic light emitting diodes (OLEDs) developed by GE Global Research in conjunction with Energy Conversion Devices (ECD) have been demonstrated in the world's first roll-to-roll manufacturing process. OLEDs are made of thin, organic materials for the lighting industry and offer the same quality illumination and lower cost that other comparable lighting.
The demonstration by GE is one step towards offering other organic electronic products (such as organic solar panels) that have less environmental impact that other systems at a fraction of the price. The new manufacturing process involves a newspaper printing like roll-to-roll technique for high production output.
Researchers have been working on organic lighting solutions for a number of years. In 2004, GE developed an 24" x 24" OLED panel, which showed that this technology was not only possible, but that it would one day be competitive with other lighting technology.
The organic light emitting diodes that GE has developed are not bulbs like other LED's, CFL or incandescent bulbs, but a thin, paper-like material that open up a new way of thinking about lighting one's home or business. Currently OLED's compete with LCD screens on computers, cell phone, PDA's and other devices.
But, GE envisions that one day OLED wallpaper will exist to illuminate one's home or flat ceiling tiles. In fact, in the not too distant future you may be eating your organic meal underneath a set of organic lights. Won't that be illuminating?