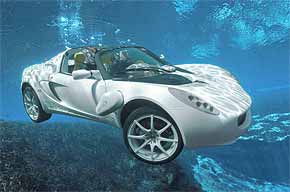 Intuitively, some things shouldn't mix like electricity and water. But, tell that to the manufacturers of the Rinspeed SQuba electric car that is capable of driving underwater. The Rinspeed SQuba underwater electric car will make its world debut at the 2008 Geneva Auto Show starting March 6.
The submersible SQuba reminds one of the James Bond car in "A Spy Who Loved Me" when Roger Moore drove an animated car underwater. Now, this animation has become a reality as the Swiss automaker says the vehicle can travel at a depth of 10 meter below any lake, pond or stream.
One electric motor drives the Rinspeed SQuba by land and two if by sea as the extra motors motivate the propellers, propelling the car like a fish. The water tight submersible car is different from amphibious military vehicles that trudge along at low speeds as the SQuba is said to move swimmingly through the water.
Now, just why would a person want to drive an electric sports car like the Rinspeed SQuba underwater? For the coolness factor of course. That's Bond, James Bond, to you petrol driver.
Of course, you may wish to watch the video to check out this bad ass automobile for yourself.