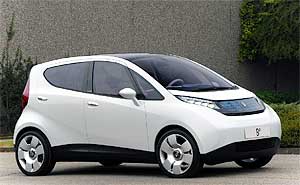 The Pininfarina B0 Electric Car (that's B Zero and not B. O. as in body odor) will start rolling out in 2010 to six European countries. In fact, the near bankrupt Pininfarina now plans to rollout 10,000 models that year plus 20,000 in 2011 and 30,000 in 2012.
The Pininfarina B0 will rollout first to France, Italy, Germany, United Kingdom, Spain and Switzerland with the U. S. coming at a later date. The Pininfarina B Zero will lease for around $420 per month (it is estimated) and will include roadside assistance.
Created in tandum with France's Bolloré, the Pininfarina B0 features all electric capabilities, powered by lithium metal polymer (LMP) battery and a supercapacitor to give it quick acceleration and the ability to recharge partially by regenerative braking. The rooftop of the B Zero also includes a solar panel for charging onboard devices.
The Pininfarina B0 electric car has a top speed of 80 mph and a range of around 150 miles. Several hours will be needed to recharge the batteries from a normal household socket.
The battery is said to be rated to last around 125,000 miles and no information is available yet about the cost for a replacement LMP battery pack. If Pininfarina manages to stay solvent as a company, the B Zero is expected to be an exciting zero emission offering that will truly be competitive in the alt car marketplace.