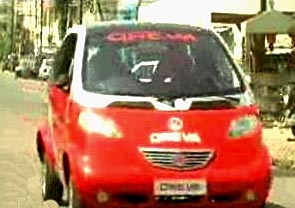 There are a few tight lipped automotive dealerships in India who have just gotten a sneak peak at the Oreva Super electric car. Even though loose lips sink ships, as they say, one detail did slip out, the price. According to one of the dealers the price for the Oreva Super EV would be between $1,745 USD and $2,050 USD, making it cheaper than the Tata Nano, which is expected to rollout with a selling price of $2,500 USD.
This price would make anyone in India think twice about an electric car conversion since the selling price is so affordable. So, far there have been no hints however about the Oreva Super electric car coming to any overseas markets such as the U. S.
Running on-time and under budget will be a key element to making this EV a success. But the company producing the vehicle, the Ajanta Group (a clockmaker) has no doubts that this can be accomplished.
The first model car is on display at the Rajkot dealer, but he isn't saying much, do to the command of silence from the higher ups in the company. The estimated time for a rollout of the Oreva Super electric car is still two months away, so one can expect a buildup of hype until this point.
The batteries that power the Oreva Super are not likely to be lead acid, but rather NiMH or lithium battery. As India's car price wars heat up, expect much interest from overseas buyers as production vehicles this inexpensive has not hit the showrooms for years.