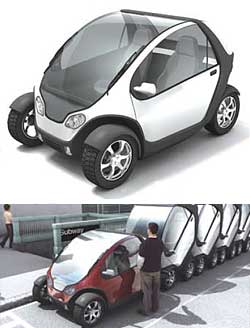 It folds. It stacks. It slices & dices and makes Julian fries. It's the MIT City Car. Okay, maybe it doesn't slice and dice, but it does fold and stack and it's the latest green car technology from a university known for their tech expertise.
The MIT City Car is an electric vehicle prototype being designed by the fine folks at Massachusetts Institute of Technology with a little financial backing from General Motors. Acknowledged as one of Time Magazine's Best Inventions of the Year, the City Car Project seeks to reduce emissions and traffic congestion in large cities.
Each wheel of the MIT City Car (called Wheel Robots) is being designed so that it has an electric motor, digital controls, suspension, braking and steering mechanisms and can easily be snapped off when needed. The Wheel Robots can even turn 360-degrees to make urban parking a cinch.
The idea for the City Car is that it can be a shared-use vehicle that can be folded, stacked and rented again by passengers at airports, subway stations, bus stops, train stations and other large central sites. No hood, no engine, no drivetrain, just a compact vehicle that commuters can use to get from point A to B efficiently and cost effectively.