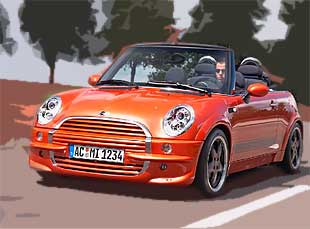 The Mini Electric Car manufactured by BMW will be heading to the U. S. in 2009 according to the company. With gas prices soaring, the SUV and truck market have been souring by 10-percent. But, sales of the Mini vehicles is up by one-third this year.
The electric version of this Mini-Me of cars is expected to fill a void left by the GM EV-1 and Toyota RAV-4 EV that were crushed a few years back. BMW will be shipping 500 of the electric Minis to the U. S. but are still uncertain whether they will offer the vehicle for sale or as a lease.
My advice to BMW, if you have learned anything from the crushing of the electric cars is to offer the vehicles for sale. A lease will have many people suspicious that their auspicious Minis may also end up in the crusher one day.
BMW has not released any technical details for the electric Mini car such as its range, recharging time, type of battery pack, horsepower or its selling price. The company did say, however, that they would unleash a Mini electric test fleet in California soon.
The British Mini Cooper has never been a high-volume car in terms of sales in the U. S. market. But, my guess is that introducing only 500 Mini electrics will be way too low of a number and the demand for this vehicle will cause BMW to revise its figures upwards in short order.