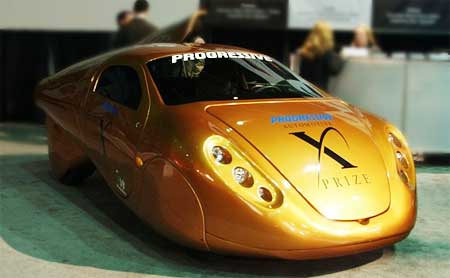 The winner of the $10 million Progressive Automotive X-Prize was the Li Ion Wave II electric car. The whole idea behind the Automotive X-Prize was to encourage green car builders to come up with a vehicle that uses less fuel, is something that is easy to commercialize and that people would actually want to buy.
A lot of high-mileage cars such as from the Shell Eco-marathon are very high mileage getting in the hundreds to thousands of miles per gallon. Are they street legal? No. Would a high number of consumers want to buy them. Again, no.
Now, the Li-Ion Wave II looks to me like a cross between one of these eco-marathon cars (and why a Big Oil company like Shell would run this has me befuddled – yes, I like saying the word "befuddled") and a standard consumer vehicle.
The point however is that Li-Ion is now taking orders for the Wave II. This odd-looking little beast reminiscent of the GM EV-1 or Honda Insight or even the Prius when it first came out, is all electric, can get up to 90 mph and has a range of about 150 miles (the SE model gets 200 miles).
The charge time is about 6 hours on the Li Ion Wave II and one not so pleasing feature is that this EV will accept about 2,500 full charges which could get you only about 7 or 8 years if you're a frequent driver. The price starts at around $39,000 which a couple of years ago I would have said is outstanding.
But, now that the Nissan Leaf has made it to the scene at a cheaper price the maker of the Wave II will have shave its costs to be competitive in the coming years.