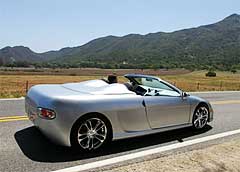 The Electrum Spyder electric sports car made its world debut at the 2007 Santa Monica AltCar Expo at the Santa Monica Air Center in California this past weekend. There were many electric cars and vehicles at this car show including a GM EV1 that somehow avoided the crusher a few years back and a Phoenix Motors pickup truck that is creating quite a buzz as well.
But, the Electrum Spyder is an electric sports car like few others. Sure, if you want to drop over $100,000 you can get on the waiting list for a Tesla Roadster or a Venturi Fetish. But, the Electrum Spyder is supposed to rollout with a base price tag of around $70,000 for the nickel metal hydride battery model that has a range of around 150 miles per charge.
For those who don't mind dropping 100 grand, then you can upgrade to the lithium ion battery pack and travel 250 miles on a single charge. The Electrum Spyder has a top speed of 100 mph and 0 – 60 mph acceleration in 7 seconds. With this vehicle you're able to hug a tree and flat out move at the same time.