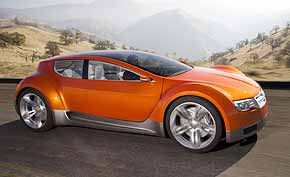 The Dodge ZEO (Zero Emissions Operation) concept car has been unwrapped and unveiled at the North American International Auto Show in Detroit. The Dodge ZEO is Chrysler's paradigm shifting all-electric vehicle that can go 250 miles on a single charge.
The Dodge ZEO is being billed as a 2+2 four door sports wagon that uses a 64 kw lithium ion battery pack to supply the power to the 200 kw (268 hp) electric motor. Quick off the line, the rear-wheel drive Dodge ZEO is able to accelerate from 0 – 60 mph in under 6 seconds.
Other features of note on the Dodge ZEO are scissor doors, the front lit crossbar grille and huge 23-inch wheels. The interior was designed with a dual-cockpit effect that is targeted to appeal to younger drivers.
I don't know if the Dodge ZEO performance sedan will ever see the light of the showroom floor, but it's good to see one major automaker saying "game on" when it comes to developing all-electric vehicles for the masses.