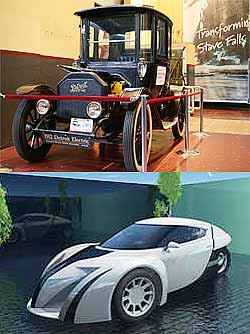 The Detroit Electric brand of electric cars is being revived after a 100 year absence from the marketplace and they are coming to California in 2009. Electric car builder Zap Motors is joining forces with China Youngman Automotive Group to revive the Detroit Electric brand.
In 1907, the Anderson Electric Car Company started building Detroit Electric cars, which were very popular until 1939, when gasoline powered cars with internal combustion engines finally took over the marketplace. The original Detroit Electric cars were powered by a lead acid battery that was rechargeable and later models used a nickel-iron battery.
Thomas Edison, John D. Rockefeller, Jr. and Henry Ford's wife, Clara all owned Detroit Electric cars. But, what they didn't see coming was cheap oil and the assembly line perfected by Henry Ford and others.
Now, the Detroit Electric car of old will be transformed into the Zap Alias of today. The manufacturers see California is the proper launchpad for its line of electric vehicles. Some would argue that the electric car is like a bad horror movie where the hand reaches up from the grave at the end.
Others would argue that the movie "Who Killed the Electric Car?" was a bit premature. But, like a fine wine, the Detroit Electric car was never really dead, only aged appropriately before it could be enjoyed at a later date as a Zap Alias. Expect to see the Detroit Electric Zap zipping around Napa Valley in the not so distant future.