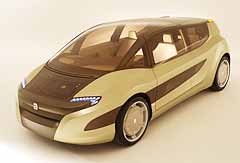 The Guangzhou Auto Group (GAG) in China has developed a new hybrid crossover concept vehicle they are calling the A-HEV. The A-HEV was recently displayed at the Guangzhou International Auto Show and shows promise that the Chinese are committed to cleaner burning vehicles.
The Guangzhou Auto A-HEV was developed as a joint venture with Toyota and Honda along with Torino Design from Italy who developed the body styling using polycarbonate panels. The A-HEV uses drive-by-wire technology and Guangzhou Auto anticipates being able to manufacture the vehicle affordably and sell it on the world market in cooperation with their better-branded partners.
Guangzhou Auto is China's fifth largest automaker and is investing over $900 million in developing its own brand of fuel-efficient, eco-friendly vehicles. The state-owned automaker is expecting to be able to turn out up to 200,000 automobiles annually by 2010.