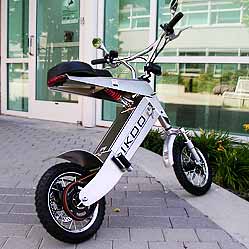 The Ikoo Electric Scooter is a funky little ride that looks like it would be equally adept at cracking walnuts or could be easily rigged to have an ejector seat. But, even though the Ikoo is high on funk it is also high on performance as well.
Made out of T304 stainless surgical steel, the Ikoo uses an EQuake S6 600w electric motor to propel riders at 18 mph for a maximum range of 18 miles. Touted as an urban bike that can handle some light off-road action as well, the Ikoo electric scooter uses dual disc brakes to slow down the action.
The recharge time is a respectable 4 – 6 hours as well as the price tag of around $999. Key ignition, meshed headlight, twist throttle and power gauge are standard features of the Ikoo. Rear view mirrors, extension seat and an anti-theft device are optional.
For less than one thousand bucks, you can find yourself zipping around city traffic, making runs to the grocery store and burning no gasoline whatsoever. Many customers have already said "I do" to Ikoo, now how about you?