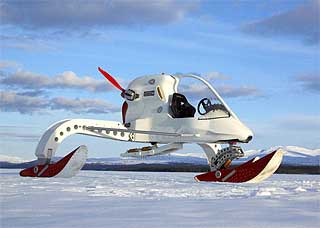 Exotic car maker, Lotus has decided to go green with a couple new biofuel concepts. Both the Concept Ice Vehicle (CIV) and Omnivore concept run on biofuels based upon alcohol.
The Lotus Concept Ice Vehicle (pictured) was specifically designed for the Moon Regan TransAntarctic Expedition. The Lotus CIV will help researchers move from point A to B quickly and avoid crevasses in the ice along the way using specially designed radar. The vehicle will also call awareness to global warming issues and the importance of going green.
The Lotus Concept Ice Vehicle has a propeller on back and three skis to help it navigate the difficult Antarctic terrain. The biofuel engine is mounted directly behind the cockpit and attached to the tri-blade propeller.
Lotus has also announced a partnership with Jaguar to design a next generation single cylinder biofuel engine called the Omnivore. The two stroke engine will be developed for running bioalcohol as its main fuel source.
Direct fuel injection plus novel engine architecture will help the Omnivore produce the highest possible fuel efficiencies according to Lotus. Vehicle modeling software will be uses to analyze the reduction in CO2 emissions.