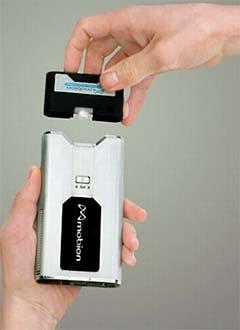 The Mobion fuel cell developed by MTI Micro is a green solution to battery technology. In fact the Mobion Direct Methanol Fuel Cell (DMFC) technology is much greener than batteries that use lithium for power plus the DMFC lasts hours longer in small electronic devices such as cell phones, laptops and digital cameras.
Methanol, once known as wood alcohol, is used to supply the power for the Mobion which can easily be recharged once the methanol runs low. The methanol can also be generated from biofuels for pennies on the dollars making it a green and cheap alternative.
The Mobion is being heralded as a personal power generator in that it is portable (you are not tied to the electrical outlet) and will provide electricity to any device with a USB port. The methanol cartridge is hot swappable meaning that even if your device is plugged in, it will continue to play as you put in a new cartridge (in a pear tree – hey it's the holidays).
According to MTI, "This compact 25ml cartridge can fully charge an average cell phone battery over 10 times; for an average user, this could power a cell phone for approximately one month, play 10,000 thousand songs or watch over 100 hours of video on their popular MP3 player, or take over 6,000 pictures on a high end professional digital camera."
I've heard it stated many times that lithium is going to be the next gold rush. Large companies are now buying lithium mines and land for mining across the globe to put the substance into electric cars, vehicles, batteries and anything that needs an electrical charge.
Methanol fuel cell technology such as that used by the Mobion would be a greener solution that won't involve tearing up the land and will provide more power to our ever increasing energy needs.