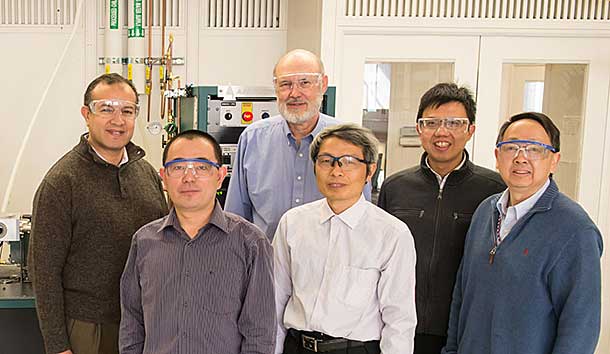 Researchers at the Argonne National Laboratory (pictured above) at the U.S. Department of Energy have developed a prototype for lithium-air batteries that can resolve the drawbacks of the existing lithium-air batteries. With the ability to store electricity up to 5 times more than common lithium-ion batteries, minus the shortcomings, the breakthrough design could soon power electric cars, and move them to great distances. When perfected, this technology could mean game over for gasoline powered vehicles.
The breakthrough battery design produces lithium superoxide, instead of lithium peroxide that is insoluble, and has a tendency to choke the battery electrodes. Lithium superoxide breaks down into oxygen and lithium that provides a battery that is highly efficient with an equally efficient life cycle.
Assistant professor of mechanical industrial engineering in the University of Illinois Chicago, Amin Salehi-Khojin, admitted that it has been difficult to confirm if a reaction does take place in the new lithium-air batteries.
As a way to measure the reaction, the assistant professor, along with Mohammad Asadi, postdoctoral research associate, created a mass spectroscopy apparatus that was used to test the battery in both its charging and discharging state. The system has to be operated under conditions of ultra-high vacuum, as the tiniest change in oxygen concentration can have a huge impact.
The system showed that the battery consumed one electron to produce lithium superoxide, and no other lithium compounds were made as by-products.
"This is going to be a valuable system for continuing the study of this battery and other types of metal-air batteries", said Salehi-Khojin. He also added that it could be the design that will give clear explanation of the reaction pathway, which will give insights on how the next generation of air-breathing batteries will be developed for cost effectiveness and energy efficiency.
Existing lithium-air batteries, produced when metallic lithium of the anode/positive terminal reacted with the oxygen present in air, store energy by way of oxide chemical bonding, and release it from lithium peroxide. But because of its drawbacks, more research and development needed to be done.
The battery that the Argonne team developed is more efficient and effective.
Last year, engineers at the University of Cambridge were conducting laboratory tests for lithium-air batteries using pure oxygen instead of air. According to the senior author on the study, Prof Clare Grey, the focus is on creating a lithium-air battery that only uses oxygen in the air, while keeping CO2, water and nitrogen intact. At that time, Professor Grey's team said that it would still be 10 years before a lithium-air battery would be made commercially available.
It seems like his assumptions may have been way too conservative, now that a new breakthrough design has been developed.
Electric cars of today are no different from laptops and other devices that rely on lithium-ion batteries to run. But because of the shortcomings of the battery, an electric car can only go so far. With funding from the University of Illinois at Chicago Chancellor's Proof of Concept Fund, and the DOE's Office of Energy Efficiency and Renewable Energy and Office of Science, research work can continue and better batteries for electric cars would be produced.
References
http://www.anl.gov/cnm/articles/lithium-air-battery-based-lithium-superoxide
http://www.anl.gov/articles/stable-superoxide-opens-door-new-class-batteries
http://www.azom.com/news.aspx?newsID=45024