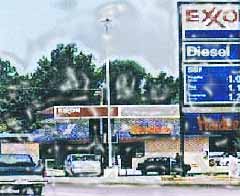 When you think you've heard it all in the alternative energy field, a story like this comes around and you just have to say, WTF? ExxonMobile has announced this week that they have developed a thin plastic polymer film that can be used in lithium ion batteries for hybrid vehicles.
Yes, you heard that right. ExxonMobile is developing technology that will help cars use less gasoline. Developed with Tonen Chemical, their Japanese affiliate, Exxon has created a thin membrane the size of a human hair that separates the cathode from the anode and allows batteries to charge and discharge at higher temperatures (plus pack more power) without catching fire.
Toyota, General Motors and Ford are currently racing to develop lithium ion batteries for plug-in hybrids in partnership with companies like A123Systems and LG Chem, Ltd. The current Toyota Prius uses nickel-metal hydride batteries, but lithium ion is thought to be the future for full electric vehicles and hybrids as well.
So, what does Exxon have up its sleeve? The company that has perpetrated the worst oil spill in history off the Alaskan coast has suddenly gone green? Perhaps, this is a signal that times are changing and that for oil companies to continue to bring in the green and remain in the black, they must become not just oil producers but energy companies as well.
Let's hope that Exxon is so good at creating methods for alternative energy adoption that they drive themselves right out of the oil business. Wouldn't that be ironic? Don't you think.