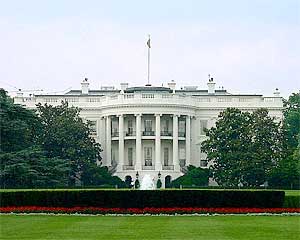 It's no secret that President Obama's new stimulus program offers major incentives for the solar and wind industries. Also included in the package are plans to conserve energy at government offices throughout the nation by adding insulation, CFL bulbs and hybrid vehicles.
And, District of Columbia officials have just announced that they will be offering as much as $33,000 to homeowners, businesses, private schools and non-profit organizations to use wind and solar power. This is just begging the question of whether or not the Obama Whitehouse will be going solar anytime soon, or will wind energy be the preference of the new President?
The fact is that solar panels have been appearing and disappearing from the Whitehouse over the years like flapjacks from an all night diner. Former President Jimmy Carter had solar panels installed to make a point about using alternative energy sources only to have them removed by Ronald Reagan when he moved into office.
George W. Bush quietly had three solar panel systems installed at the Whitehouse, which have mostly gone unnoticed. The solar panels are used to feed electricity to the cabana, for landscaping use and for the Whitehouse grid.
Now, one wonders whether Barack Obama himself will walk the walk and install additional solar panels at the Whitehouse and in addition put up a wind turbine or two for good measure? As with Carter it would be an appropriate symbolic gesture to install additional solar panels and add wind turbines to the Whitehouse.
Let's hope the stimulus package is one that is lead by example and devoid of some of the usual Washington DC hot air.